Lt Cdr Cumming Report
Note: from our President John Carroll
I have highlighted those parts of this report which, to the best of my knowledge and belief, no one has ever seen before. It also highlights the inequity of the Nominal Roll, where Army personnel, who served pre the official dates of involvement, have their service recognised, whereas the RAN member is not recorded on this Roll or acknowledged anywhere else at all. Another fault of the Senior Service also being the Silent Service. I can only hope things have improved over the years. I have left that part of Chapter Three of Out of Sight, Out of Mind in so that the new portion can be read in context with that part of the Chapter.
Early Days - RAN - South Vietnam War Zone
It was via a narrow twisting channel through dense mangrove swamp that ships passed from the South China Sea to the piers and moorings of Saigon. Mines in the channel could put an end to that traffic. The area through which the channel made its way was known as the Rung Sat Special Zone (RSSZ), a dangerous four hundred square mile expanse of mangrove swamps and mudflats. <![if !supportFootnotes]> [i]<![endif]>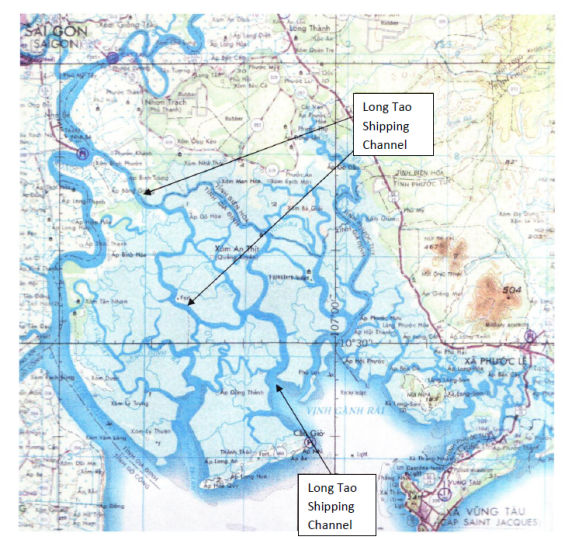 Long Tao Shipping Channel – Rung Sat Special Zone <![if !supportFootnotes]> [ii]<![endif]>
As an integral part of Australia's policy of forward defence, the RAN was fully involved. Effectively, not only was the Navy's presence in Vietnam much more significant from a defence perspective than is often assumed, it also began at a much earlier stage than the other two services, and several years before the first thirty Australian Army advisers arrived in Vietnam in August 1962, purportedly in non-combatant roles.<![if !supportFootnotes]>[iii]<![endif]> Historical theses of the Australian military deployment in Vietnam rarely, if ever, mention that RAN ships visited South Vietnam in the mid 1950's and early 1960's. While serving with the FESR based in Singapore, during the Malayan Emergency, the destroyers Anzac and Tobruk both made separate visits to the then South Vietnam capital city port of Saigon in October 1956, and December 1957 respectively. Visits then followed to the ports of Nha Trang and Saigon, undertaken by Vampire and Quickmatch on 25 January 1962, ostensibly to mark the occasion of Australia Day, followed by similar visits to Saigon by the two frigates, Quiberon and Queenborough on 31 January 1963. These visits, per se, were officially classified as diplomatic port visits by the Australian Government, with their sole purpose being hailed as demonstrating Australian support for South Vietnam, which had been embroiled in armed conflict with a range of anti-government forces since its inception in early 1955.<![if !supportFootnotes]>[iv]<![endif]>
Unofficially, Vampire and Quickmatch were also given the covert task of accurately assessing the viability of a ship the size of Sydney being able to access the port of Saigon, for the troop transportation and logistical support roles in which she would subsequently be employed. The berthing facilities had been used by at least two light French aircraft carriers and several American auxiliary aircraft carriers in the past; and the port was reportedly readily accessible to ships drawing 9.3 metres (30 feet) and up to 180 metres (590 feet) in length.<![if !supportFootnotes]>[v]<![endif]> Sydney was known to exceed these dimensions by over forty feet (12 metres) at the load water line (LWL) and by more than 100 feet (30 metres) in length overall (LOA). Both factors would have affected Sydney's ability to manoeuvre in the restrictive confines of the narrow, twisting Long Tao shipping channel.
Despite the diplomatic classification for these visits, by 1962 it was quite evident that both Vampire and Quickmatch were exposed to some considerable risk when they entered the Long Tao shipping channel, and made their way up the Saigon River system. Captain Anthony Synott, then the Commanding Officer of Vampire, later wrote that:
In January 1962, HMAS Vampire under my command visited Saigon in company with HMAS Quickmatch. There is no doubt that Vietnam was on a war footing at the time and we were required to take all necessary precautions.<![if !supportFootnotes]>[vi]<![endif]>
Commander Peter Doyle, Commanding Officer of the accompanying frigate, HMAS Quickmatch, confirmed the circumstances of the visit, and wrote in some detail of the task he was delegated to perform by Synott:
In essence, the task delegated to me by the Commanding Officer of HMAS Vampire was to report on the feasibility of HMAS Sydney being able to berth in Saigon. In preparation of my report I used:
* French charts of the Saigon River.
* Discreet discussions with local pilots – a small US carrier had berthed in the Saigon River probably near the refinery oil storage area about a year before.
* Discussions with Colonel Hopton the Australian Defence Attaché.
* My observations of the river passage both inward and outward.
* From recollection, I believe my report concluded that from a purely pilotage and ship handling point of view – at least as far as the oil storage refinery, HMAS Sydney could navigate the Saigon River. However, the possibilities of mine warfare, swimmer attack and shellfire from the countryside made the risks unacceptable.<![if !supportFootnotes]>[vii]<![endif]>
This element of risk and danger applied not just to the ships involved, but also to the officers and sailors who ventured ashore on official duty. The observations of Lt. Cdr. Peter M Cumming show a first-hand perspective.<![if !supportFootnotes]>[viii]<![endif]> Cumming visited South Vietnam during the period, 14 December 1962 to 14 January 1963, as an RAN observer. At the time, he was the Executive Officer of HMAS Quiberon, which was scheduled to visit South Vietnam in late January 1963.
Following official briefings and introductions, Cumming met with Captain J B Drachnik, USN, head of Navy section, Military Assistance Advisory Group (MAAG), and formulated a program to cover the period of his stay, until planned amphibious landings against enemy forces in the south commenced early in January 1963. As Cumming noted:
As the plans for the landings had reached draft form there was nothing I could do to assist, and I therefore decided to use the rest of December familiarising myself with the proposed operation, visiting as much of SVN as possible, assisting the Australian Defence Attaché (ADA) with arrangements for the RAN visit in January, and generally observing activities naval, in and around Saigon. <![if !supportFootnotes]> [ix]<![endif]>
On Tuesday 18 December, Cumming met with Lt. Cdr. Liem at the Ministry of Defence, followed by Captain Ho Tan Quyen, Commander of the VNN at Naval Headquarters, who briefed both Colonel Hopton and Cumming on the forthcoming Ca Mau landings. On the following Saturday, he accompanied Hopton to the graduation ceremony at the Da Lat Military Academy. On Boxing Day, he was shown over the Saigon shipyard and inspected the new command junks being constructed there.<![if !supportFootnotes]>[x]<![endif]>
The next day, Cumming flew to Da Nang via Pleiku. He was briefed on activities in the north at HQ One Corps by VNN and MAAG representatives there, and met with Lt. Trang, the district naval commander. He then met with Captain P Young and the men of the USN Seal Team stationed at Da Nang. Next day, in company with the local USN advisor, Lt. Ryan, Cumming visited the resident US Marine helicopter flight and discussed the area with their Intelligence Officer (IO). That afternoon, he was taken to the naval base on an island at the entrance to Tourane Harbour, and observed the training of the Biet Hai (Sea Force Commandos). From there, Cumming returned by air to Saigon.<![if !supportFootnotes]>[xi]<![endif]>
At 0700 on New Year's Day 1963, Cumming joined VNN LST 500 at the Saigon shipyard, slipping from alongside at 0800 to commence the WAVBROLO campaign. Also onboard were Captain Quyen, Captain Drachnik, Colonel Moody USMC, and other USN advisors, plus VNN staff officers and communications personnel. All told, a total of 700 marines and 120 naval personnel were embarked, with a full complement of stores, filled sandbags, fresh water, and assault boats. Passage down river was interesting but uneventful, anchoring at Vung Tau at 1300, approximately 1.5 miles north of Banc de Phare, Can Gio, where practice landings of marines at Can Gio were undertaken, using one command junk, five junks and the LST's four Landing Craft.<![if !supportFootnotes]>[xii]<![endif]>
At 1900, LST 500, in company with VNN LSM's 403 and 328, proceeded via the western side of Puolo Condore (Con Son) Island to an anchorage off Ca Mau Point, which was reached at 2200 on Wednesday 2 January. Here, the force was joined by two LCU's and 15 junks from Phu Quoc Island. The extensive shoaling off Ca Mau Point forced the flotilla to anchor some four miles offshore, with choppy seas making boat-work extremely difficult.<![if !supportFootnotes]>[xiii]<![endif]>
The landing of the southern battalion at 0800 the next day went as planned. Air support was provided and an underwater demolition team had cleared and reconnoitred the beaches before the landings, which were not opposed. As Cumming noted 'All villagers had disappeared from Xom Mui and Xom Rach Tau, leaving only the usual booby traps, grenades and stakes behind. All river mouths in the area were heavily barricaded with stakes.'<![if !supportFootnotes]>[xiv]<![endif]> Regarding the landings, Cumming also wrote:
All landing on the 3rd went well, the only casualties being one KIA and 2 WIA in the northern landings due to a land mine. Immediately the marines had been landed, which required two lifts by junk and LCVP and final approaches by 15 ft. SSB's with outboard engines, the job of offloading stores to the beaches commenced and continued all the next day. All fresh water had to be supplied by the ship.
PM 4th, I landed at Xom Mui with Captain Drachnik and was grateful for borrowed khaki clothing and weapons. The village is up a tidal creek, built on stilts, and surrounded by nauseous mangrove swamps. … I returned to the LST by SSB and junk that evening. Captain Quyen brought Lt. General Cao, Commander IV Corps, and the civilian provincial governor aboard for the night.
Fifth and 6th I spent onboard, where Captain Quyen had his command post until a site could be found ashore. On the 6th an LCM was attacked going upstream in the northern sector by Viet Cong (VC) guerrillas using an electrically detonated mine. The LCM was missed, but was ambushed when it withdrew and two sailors were wounded. Positive results up to that date were occupation of initial objectives, clearing traps and defences, and the capture of some 50 suspect civilians. Quite a large amount of VC equipment was also taken.
I joined LSM 403 on the evening of the 6th, and we sailed at midnight for the northern area. We arrived off the Bo De river mouth at 0800/7th, and on being joined by LCU 539 and 533, we entered the river at 1100. All guns were manned, as the VC is active on both banks, which are only 150 yards apart. We anchored inside the entrance and sent civil guard platoons ahead to join Rangers clearing VC from the village at the entrance to Rach Duong Keo. At 1230, we beached near the village where VC elements were being driven away with small arms fire, but with no discernible casualties, as we came in.
At 0730 Tuesday 8th, I left LSM 403, landed my gear at Nam Can, and left by LCM to visit the area of the northern landings. We arrived at the village of Xom Ong Trang at 1300, the passage was unopposed. VC controlled villages on the southern shore were apparently deserted. However, the LCM had been fired on the day before, and had replied with tracer, burning down a long house. We stopped all craft on the river while on passage, searched them and interrogated their occupants.
I managed to hitch a ride on an ARVN H34 helicopter and left Nam Can at 1230 Wednesday 9th. The alternative was to wait for a charcoal convoy leaving on the 10th and taking three days to fight its way up the canal to Ca Mau, with safe and timely arrival NOT guaranteed. I decided to take my chances with the Vietnamese chopper pilot instead.<![if !supportFootnotes]>[xv]<![endif]>
Cumming returned to Quiberon via Saigon and Singapore, and remained in the ship until 21 February. It appears that Cumming's service in Vietnam has not been acknowledged in any official documentation. His name and service details do not appear on the Vietnam Veterans Nominal Roll, as do 153 of the 220 members of the ship's company of HMAS Quiberon. Whereas Colonel Hopton, the Australian Defence Attaché who accompanied Cumming for the initial part of his visit, has had his name and service details recorded on this Roll. <![if !supportFootnotes]> [xvi]<![endif]>
In late January 1963, the frigates Queenborough and Quiberon were deployed to the South Vietnam ports of Nha Trang and Saigon from their duties elsewhere in the Southeast Asian region.<![if !supportFootnotes]>[xvii]<![endif]> While at Nha Trang, a group of twenty sailors from each ship landed to visit the Vietnamese Army's Ranger training centre at Duc My - approximately 50 kilometres from Nha Trang. The Commanding Officer of Quiberon, Commander Vernon Parker noted in his ROP for January that: 'It was obligatory for all personnel to be armed as ambushes by the Viet Cong are by no means uncommon in the area.'<![if !supportFootnotes]>[xviii]<![endif]> Lieutenant Commander Frank Woods Commanding Officer of Queenborough, later confirmed Parker's observations, and noting in his ROP that:
During the four-hour passage up the Saigon River an armed patrol craft and spotter aircraft to detect signs of threat from the river bank were provided. After berthing at Saigon 24-hour security measures were provided to both ships by South Vietnamese authorities.<![if !supportFootnotes]>[xix]<![endif]>
When Vampire and Quickmatch made their 'Australia Day' visit to the South Vietnam port of Saigon on 25 January1962, they entered what could only be termed an active 'war zone'. From an official government point of view, however, this was not the case. Australia's official involvement is recorded as beginning upon the arrival of 'Colonel F P Serong in Saigon on 31 July 1962, and that this date marks Australia's entry into the Vietnam War.' <![if !supportFootnotes]> [xx]<![endif]> But even official versions of events can sometimes be incorrect. As Serong has noted in some detail:
My first arrival in Vietnam was mid-April 1962. At that time, the war was fully ongoing. Passage up and down the river, to and from Saigon by warships was a tactical operation conducted as such – an operation of war. This had been the long ongoing status at that date, and, from my later knowledge, for many months before. <![if !supportFootnotes]> [xxi]<![endif]>
Sound judgement also dictates that RAN ships entering a restricted waterway - in what could best be described as an area of strategic importance and likely to be subject to an unprovoked attack at any time - would need to adopt proven defensive measures commensurate with the conditions then faced. The fact that Synott had ordered such defensive measures be adopted aboard Vampire and Quickmatch for the four-hour transit of the Long Tao shipping channel, both going upstream and when coming back down, indicates that a real threat of risk and danger did exist.<![if !supportFootnotes]>[xxii]<![endif]> That this state of affairs was apparently ongoing is confirmed by Serong in his letter. The date of Australia's official involvement in Vietnam however, remains the same.
A prudent assessment made by Synott regarding the conditions he faced before ordering that an advanced state of defensive measures be adopted when entering the Long Tao shipping channel, had obviously not been considered when the relevant authorities allocated starting dates for the 'official' commencement of Australia's involvement in Vietnam. It would also be safe to assume that the government of the day placed more diplomatic and political value on the deployment of 30 non-combatant Army advisors to South Vietnam, seeing them as an example of their support to a beleaguered SVN government - and their US supporters. They were much more visible than the arrival of two warships, purportedly on a port visit to Saigon six and a half months previously, that were also there to discretely ascertain the viability of Sydney using the port later, to support the further involvement of Australian forces in the rapidly developing war.
It was into this rather inhospitable area that Sydney and her escort ventured repeatedly from June 1965 until November 1972, where they were always assigned to the northern end of the Vung Tau anchorage. These anchorage points were adjacent to Point Gahn Rai light, well within mortar and rocket range of Long Son Island, Can Gio on the Long Thahn Peninsula, and other places of opportunity within striking distance of the Vung Tau anchorage, from where communist forces could attack ships without warning.
<![if !supportEndnotes]>
---
<![endif]>